Cemeteries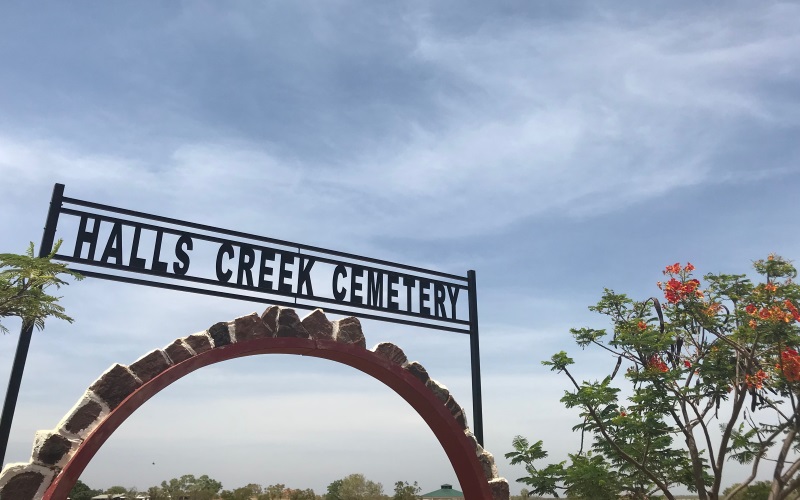 The Shire of Halls Creek maintains two operational cemeteries, the Main Halls Creek Cemetery at Slattery Avenue and the Red Hill Cemetery, and one historical cemetery, Old Halls Creek Cemetery.
Most interments take place in the Main Halls Creek Cemetery and interments at Red Hill Cemetery are sanctioned by the Traditional Elders.
The Shire of Halls Creek is responsible for ensuring that these cemeteries are maintained to a standard that is consistent with the overall design and the Cemeteries Local Law 2015.
Families may express their sentiment by placing a plaque at the site as a permanent memorial for their loved one. Flowers may be laid upon the gravesite to commemorate significant dates such as birthdays, anniversaries and other special occasions. Withered flowers may be placed in the receptacles provided at the site. An authorised officer may remove all withered flowers and faded artificial flowers in accordance with the Cemeteries Local Law 2015.
Visitors are reminded that the placement of other items, including vases, statues, pots and other types of memorial items are not permitted without the prior written approval of an authorised officer. All monumental works must be approved by the Shire prior to placement in the Cemetery.
Please contact the Shire's Customer Service team on 08 9168 6007, who can assist with all enquiries relating to reservation of a burial plot and Applications for monumental works
The Shire has access to some historical burial records. If you wish to search these records, please email us at hcshire@hcshire.wa.gov.au and include details such as the full name of the person you are looking for and date/year of death and staff will get in touch with you.
New Area - Cemetery Schematic Map - May 2022